Green and serene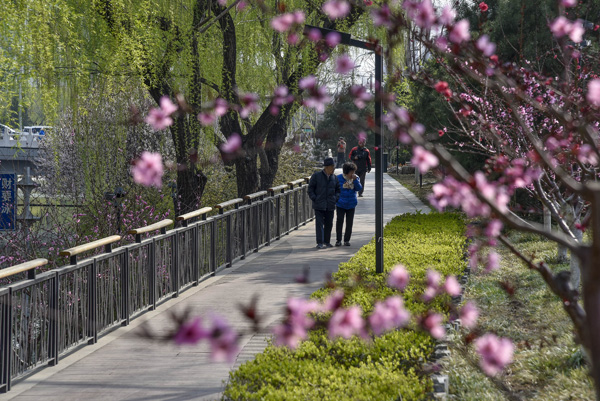 A project to create an eco-friendly belt around Beijing's Second Ring Road delights local residents and visitors alike, Yang Feiyue reports.
A red wooden gate next to a gas station just east of Andingmen overpass leads to a green world hidden in downtown Beijing.
One minute, you're walking along the bustling Second Ring Road. The next, you step through the gate and find yourself next to a waterway lined with willows.
The branches block out the sounds of the traffic grumbling through the busy Andingmen area, creating a quiet breeze.
Guhehuayu has indeed become a place to retreat from the hyperactive pulse of city life in the heart of the metropolis.
"We've planted many trees and turned the areas into gardens that people can enjoy," says Xu Sha, deputy director of Dongcheng district's gardening and greening bureau.
A great variety of flowers have been planted to ensure blooms throughout most of the year.
Guhehuayu presents spectacular scenes in spring, with such flora as blossoming Chinese crabapples, lilacs and flowering plums near the city's ancient moat, Xu says.
The spring blooms usually last from mid-March to May. In the summer, crape myrtle flourishes, and other trees cast shade to offer respite from the heat, she says.
"We've also planted ginkgos to appreciate when the leaves change color in the fall," Xu adds.
Guhehuayu is part of 13 sites that feature different landscaping elements along a green belt encircling Beijing's Second Ring Road.
The whole belt runs 87 kilometers and covers Dongcheng, Xicheng, Chaoyang and Fengtai districts.
Guhehuayu belongs to the Dongcheng district section, which runs over 16 kilometers and will eventually cover nearly 40 hectares.
In 2012, the Beijing municipal government proposed offering more green sites featuring water for local residents and travelers to enjoy leisure.
The city decided to start creating the area near the moat as water quality had been continuously improving.
The green-belt project kicked off in 2014, and Guhehuayu opened to the public in 2015.
The area used to be a green buffer protecting the waterway and was earlier sealed with an iron fence to keep out visitors, Xu says.
"Weeds ran wild. Things were chaotic. And the willows had pests," she recalls.