'Friendly' walk away suggests there is more talking to be done: China Daily editorial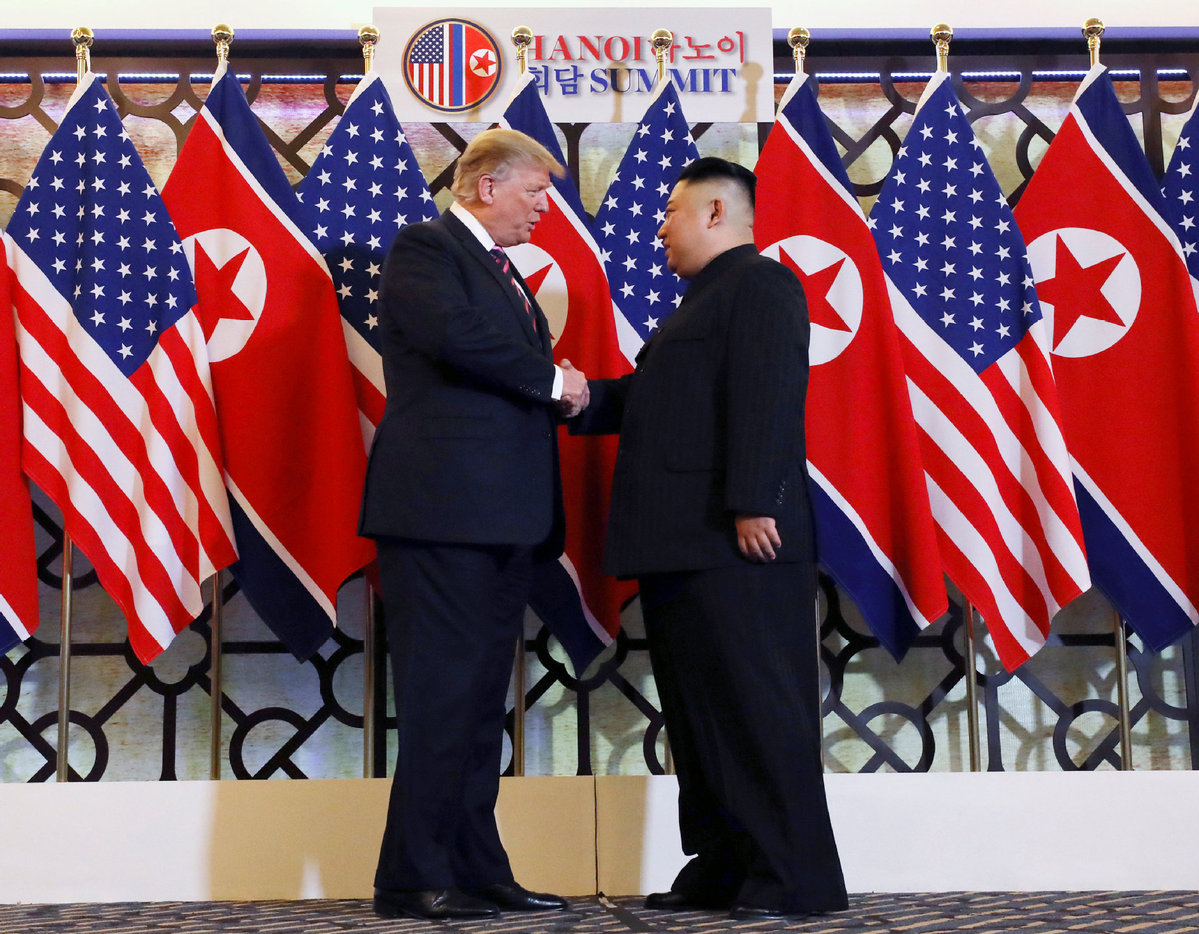 After his meeting in Hanoi with Democratic People's Republic of Korea top leader Kim Jong-un was cut short on Thursday, United States President Donald Trump said that "sometimes you have to walk", and that "this was just one of those times."

Although "it was a friendly walk", he added.

Certainly the two leaders greeted each other with warm smiles and handshakes when they met on Wednesday, and they exchanged friendly words over dinner that evening.

But Trump said that Kim wanted too much by demanding a complete lifting of US-led international sanctions in exchange for the closing of the DPRK's Yongbyon nuclear facility.

This gets to the heart of the matter concerning their different approaches to the DPRK's denuclearization: Washington sees the sanctions as tools of coercion, and has demanded that Pyongyang do something "meaningful" to denuclearize before it offers sanctions relief.

When asked whether he was ready to give up nuclear weapons, Kim said: "If I wasn't ready for such a thing, I wouldn't be here." However, he wants the sanctions to be lifted in one fell swoop.

Given that Trump did not close the door on a deal in the future, and said that he would meet with Kim again sooner or later, it may be that he simply ran out of time to talk because he had to turn his attention elsewhere.

Certainly, from the Singapore summit in June to this week's Hanoi meeting, the dramatic rapprochement between the US and the DPRK — seemingly immutable adversaries — would not have been possible without the strong political will for engagement demonstrated by both sides over the past year.

Each time this has appeared at risk of being lost, other important players involved in the denuclearization of the Korean Peninsula, in particular the Republic of Korea and China, have provided the necessary will and support to keep the engagement alive, and set the stage for Washington and Pyongyang to address core issues leading up to denuclearization. They will no doubt be offering their support this time, too.

Although the high hopes for the meeting have not been met and there is a sense of disappointment, the high-level contacts between the two sides are likely to continue.

The White House said on Thursday Trump and Kim had "very good and constructive meetings" and "discussed various ways to advance denuclearization and economic driven concepts". It said the two teams agreed to meet in the future. Trump also said Kim had agreed not to resume his country's nuclear weapons tests, which was the one thing Trump said he was looking for ahead of their meeting as he was in no "rush."

So it would seem a deal is still on the cards — it just needs more time to put the pieces in place.
Most Viewed in 24 Hours
China Views