No dogs community, is it workable?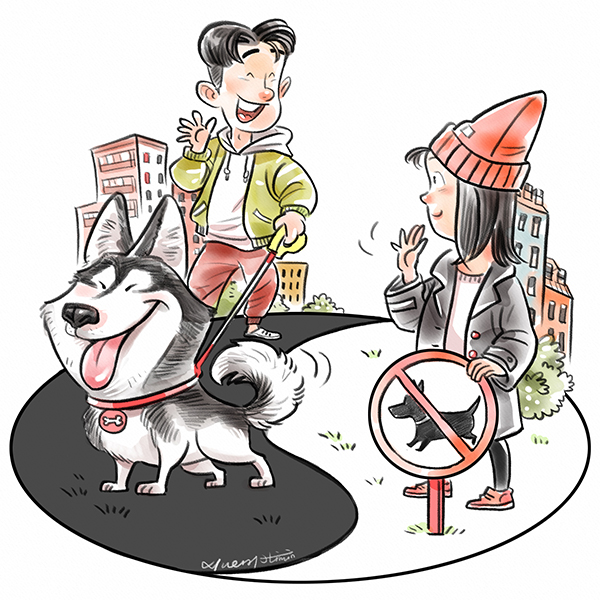 A developer in Yuncheng city, North China's Shanxi province, reportedly requires all buyers to sign a contract promising not to raise dogs when they buy a property in one of its residential developments. Liu Yuanju, a researcher in law and sociology at Shanghai Institute for Finance and Law, comments:

Despite the wide controversy over it, the contract is legal and binds those who sign it, according to the analysis of many legal experts. They are right because raising a dog is a civil right that one can give up in exchange for other things.
Beside, it is better to have a rule for community residents rather than leaving them to solve such issues among themselves. "No dogs" is such a rule. It can help to prevent conflicts among residents who love dogs and those who do not, although it is a little extreme.
However, it remains doubtful how long the contract can be effectively implemented. In the next three to five years, this agreement can still be implemented very well. But as time goes on, it will become increasingly likely that people will break it.
Just imagine one possible scenario: What if someone picks up a stray dog in the street, hoping to save its life, but cannot find any family to accept it?
And there are probably countless cases in which a person might change their mind and want a dog as company. That's a natural feeling of human beings, and even a contract cannot stop that.
So in many cases, the contract will face the risk of being broken. Some propose to add a fine into the contract so that those who break it have to pay, but the problem is, even if the dog raiser pays, the community will no longer be dog-free. Will the developer, the property management company, even the police deprive a dog owner of his or her pet, or force him or her to move out of the community because of a dog?
Therefore, my conclusion is that the idea of a dog-free community might be good from their point of view, but it might be hard to implement in practice.
Most Viewed in 24 Hours
China Views