Monitoring climate change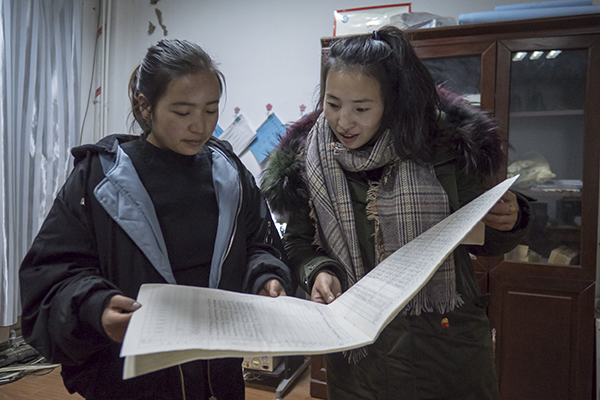 It takes a lot of effort to observe the weather on 'the roof of the world'
At 7:30 am, it is still dark outside, and the winds are howling. Losong Lhamo wears her down jacket and gloves. And carrying a flashlight, she arrives at the meteorological observation site.
The 31-year-old bends down to check the ice in the small evaporator, and record the data shown on the tube. After that, she climbs up the slope to observe the changes in the clouds.
Located in Amdo county, in Nagchu prefecture of the Tibet autonomous region in Southwest China, the meteorological bureau is 4,800 meters above sea level, and is believed to be the highest manned meteorological observation site in the world.
Despite the challenges of low temperatures and thin air, generations of meteorologists have been working at the station for over half a century. Seven people are currently working at the site.
After completing her work, Losong Lhamo rushes back to her office to report the data on sunlight, frozen earth, rainfall, wind speed and direction, earth temperature, evaporation rate, cloud cover and visibility.
"We are required to finish each report within three minutes, and we have to be very accurate with all the data," she says.
Every day, Losong Lhamo and her colleagues conduct eight observations, including one at 2 am and another at 5 am.
"When we are on the night shift, it is hard for us to fall asleep again after finishing an observation in the cold," she says.
The temperature in Amdo is around-30 C in winter. So, without gloves, fingers can get stuck on the iron door, and the weather forecasters have to warm up the measuring instruments against their bodies so they can operate normally.
"It's arduous work, but compared to the older generation, what we are experiencing now is no big deal," she says.